Naples Quality Dental Care
Eagle Creek Dentistry - JW Valentine DMD provides quality cosmetic and dental care services. They have been one of the most preferred dental providers in the Naples area along with extensive experience and a friendly environment.
Services Include:
Cosmetic Dentistry
Crowns and Bridges
Dental Implants
Braces

We welcome patients of all ages and ensure you the best dental care treatment in Naples, Florida. Specializing in family and cosmetic dentistry, we look forward to creating a health partnership with you and your family!  Whether you visit the dentist regularly, or if it has been a while, we look forward to helping you improve and maintain optimum oral health and wellness.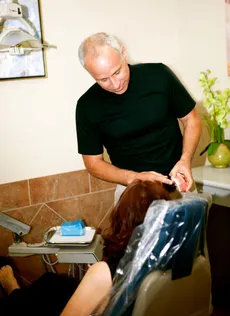 Actual Patient
Give us a call today!  Monday - Thursday: 8:00AM - 4:00PM
Emergency Dental Treatment
If you have a life-threatening or severe injury, call 911 or go directly to the nearest hospital emergency room. We can treat a variety of traumatic dental injuries, including teeth that have been chipped, moved, or knocked out entirely. Please call our office for assistance at 239-417-6453 (239-41-SMILE)
"Our mission is to provide high quality comprehensive oral health care based on mutual trust in a safe, comfortable, and friendly environment while maintaining a high standard of ethics. It is our genuine compassion for people that ensures our patients receive optimal oral health care and remain our highest priority."
---